Vignettes from the End of the World.
58 tales soon to be released from their restraints by Jacob Haddon of
Apokrupha
. Warning: these tales are not to be trifled with. They're a little ticked off and they mean business. If you have any doubts about whether you're ready for them...okay, who am I kidding here?
Check this book out as soon as possible.
It might be your only chance at survival. Forewarned is forearmed.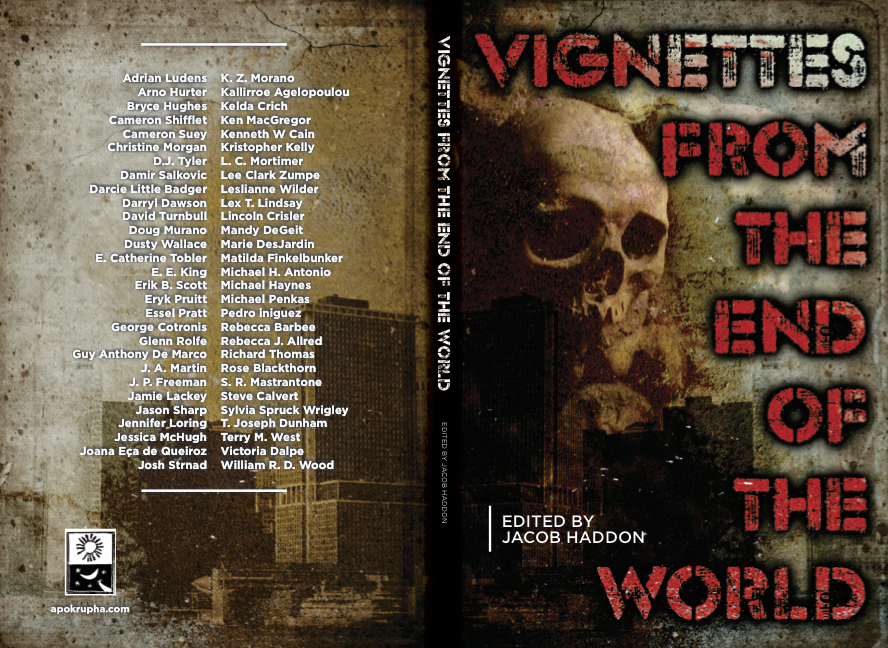 And, as listed on the cover, you can find the darkest imaginings of:
Adrian Ludens
Arno Hurter
Bryce Hughes
Cameron Shifflet
Cameron Suey
Christine Morgan
D.J. Tyler
Damir Salkovic
Darcie Little Badger
Darryl Dawson
David Turnbull
Doug Murano
Dusty Wallace
E. Catherine Tobler
E. E. King
Erik B. Scott
Eryk Pruitt
Essel Pratt
George Cotronis
Glenn Rolfe
J. A. Martin
J. P. Freeman
Jamie Lackey
Jason Sharp
Jessica McHugh
Joana Eca de Queiroz
Kallirroe Agelopoulou
Ken MacGregor
Kristopher Kelly
L. C. Mortimer
Lex T. Lindsay
Lincoln Crisler
Mandy DeGeit
Marie DesJardin
Matilda Finkelbunker
Michael H. Antonio
Michael Haynes
Michael Penkas
Pedro Iniguez
Rebecca Barbee
Rebecca J. Allred
Richard Thomas
Rose Blackthorn
S. R. Mastrantone
Steve Calvert
Sylvia Spruck Wrigley
T. Joseph Dunham
Terry M. West
Victoria Dalpe